Gravel Paving Grid Matting Soil Stabilizer for Equestrian
LY950

333*333*50mm

HDPE

Black Dark Green

More than 250tons/m2 after filled

-40 to 120 degree Celsius

Paddocks, Horse walkers, Lunging arena, Equestrian sports area etc.

0.65kg/pc; 5.85kg/m2

Bundles for FCL and cartons for LCL

570sqm/20'GP; 1150sqm/40'GP; 1310sqm/40'HC



Product Details
GRAVEL PAVING GRID MATTING SOIL STABILIZER FOR EQUESTRIAN
Grid matting soil stabilizer from Leiyuan is interlocks and is placed over a level base of rock, then backfilled with fines (coarse or angular sand, bluestone, etc.). Road cloth may also be used for the ultimate in mud prevention.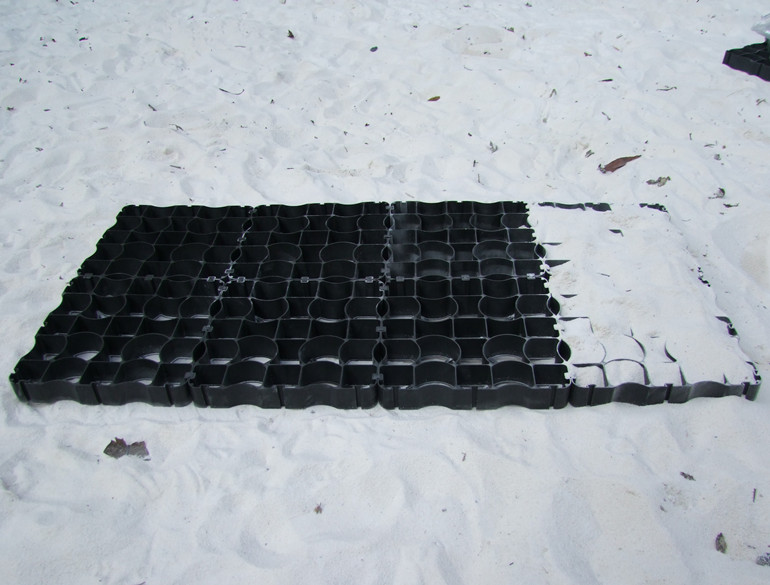 LEIYUAN NEW ONLINE MUD MANAGEMENT PRODUCT –SOIL STABILIZER
Gravel paving soil stabilizer is a high quality and versatile range of 100% recycled high density plastic, permeable paving. Equestrian soil stabilizer from Leiyuan Industrial Company Limited is the best quality product of its kind in the market place. It is best mud management solutions for all equestrian facilities and livestock owners. Grid floor has a compressive strength of up to 250 tonnes per m2.
DIMENSION
| | |
| --- | --- |
| MATERIAL: | HDPE(100% Recycled High Density Polyethylene) |
| SIZE: | 336*336*50mm |
| COLOR: | Black; Dark Green |
| CELL WALL THICKNESS: | 2mm |
| WEIGHT: | 0.65kg/pc; 5.85kg/m² |
| PACKING: | Nine individual sections are pre-assembled in the factory to form easy-to-install units. This means that you can lay an area of 1m² in one go. |
| LOADING QUANTITY: | 570m2/20'gp, 1150m2/40'gp, 1310m2/40'HQ |
SPECIFICATION
| | |
| --- | --- |
| LOADING BEARING CAPACITY: | More than 250tons/m2 after filled |
| OPEN CELL PERCENTAGE: | 92% top; 75% base |
| ANTI HCL: | According to GB4218-1984, 30%x24h, no visible change |
| ANTI NaOH: | According to GB4218-1984, 30%x24h, no visible change |
| THERMAL AGING: | According to GB/T 7141-1999, 70ICx24h, no visible change |
| UV RESISTANCE: | According to GB/T18830, UPE>30T(UVA)AV<5%, Qualified |
| TOXICITY: | Non Toxic |
| DURABILITY: | Durability of at least 10 years in neutral ground of 4<pH<9 |
COLORS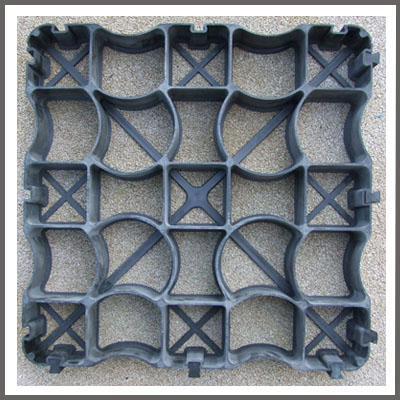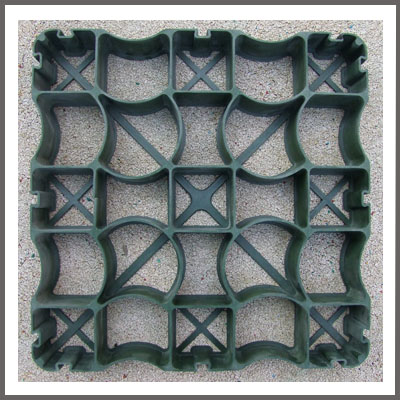 APPLICATION
Indoor and outdoor riding arenas
Paddocks and open

stables
Tethering and mounting

areas
FEATURE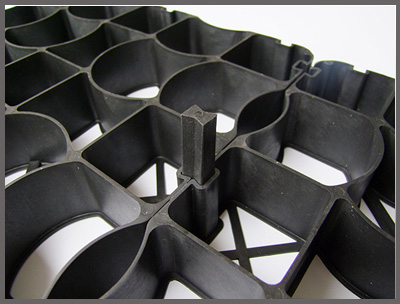 -Light weight
-Non-slip
-Elastic and robust
-Easy Install
-Crack-proof
-Weatherproof
-Environmentally friendly, 100% recyclable
-High load capacity
-Ammonia resistant
-Withstands frost and UV light
-Does not rot
PreviousLeiyuan Paddock Plastic Grid Floors for Lunging Area
NextMud Control Plastic Floor Grid System Horse Paddock
Related Products