Paddock Grids Recruit Global Distributors
2016-10-12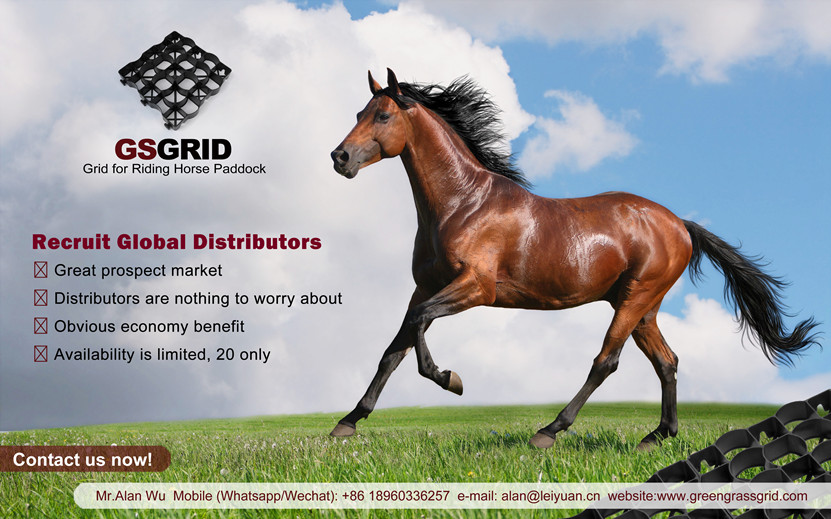 Paddock Grids made of PP, they are widely used in farm and stud-farm which play an important role in ground reinforcement. Its special structure specialized used for stud-farm and farm to prevent hoofs and body injury, meanwhile to prevent soil erosion. And now more and more applied to road, landscape play a role for beautify and ground reinforcement.
Business Opportunity and Market?
√ Great prospect market: The paddock grids are widely used in Europe, North America, Australia, East Asia farm and stud-farm, that means great prospect markets. It just beginning, the opportunity are right in front of you.
√ Distributors are nothing to worry about: Superior quality after field testing is in good condition, the users can use it safely, distributors just sale.
√ Obvious economy benefit: An investment for long-term use, easy and quick to install, save maintenance costs.
Why recruit distributors?
√ It was highly attention by merchants and end-users after bring paddock grids to the market;
√ Lots of end-users inquiry paddock grids and express great purchasing desire;
√ In order to expand market, sharing benefits, mutual help, improve serve customers.
Future?
√ We'll continue to research and development, improve product performance, develop diversified sizes to satisfied customers request;
√ Continuous promote matched products, like grass grid, drainage plates, landscape plastic products etc.
How to Cooperation?
What we pursuit is to set up a long term, stable and win-win partnership. Ensuring that each batch of products are perfectly delivered to the customers by strict quality control, keep on launching potential products to meet with market demand, so that dealers maximize your benefits to the extreme.
1) Distributor
Low entry standard, less investment, high profits, extra perk, enjoy with one to one service from customer manager.
2) Regional Distributor
Exclusive right of regional market development, greater challenge, more income, high subsidies, enjoy with one to one service from senior account manager.
3) OEM
If you have your own brand, welcome to authorize us to customize self product brand, our CEO will docking with you directly.
4) Specialized Cooperation Projects
For large-scale project, our CEO will organize a project team to collaborate with you, guarantee our customers have no worries about our products.
5) Sales Representative
With the name of our company as a sales representative sell products and after-sale service to your clients, earn a reasonable commission.
**

Set of market development award;
**

Welcome contact us directly for detailed terms.
Qualifications for distributorship
- Companies or individuals;
- Provide original copy of valid identification of the company or individual;
- Fixed site for business operation not less than 50 square meters;
- Operation team no less than 2 people;
- Honest operation history without any bad credit history;
- Fond of the sale our products;
- Willing to provide Party A with market information;
- Willing to share the information of Party A in social network.
Contact:
Mobile (Whatsapp/Wechat): +86 18959896697 +86 18965739397
Mail:
green@leiyuan.cn
greening@leiyuan.cn
Tags in this page:
Recruit Global Distributors, Distributors, OEM, Special Cooperation Projects, Sales Representative, Paddock Grids, GSGrids, Horse Paddock Grids, Hoof Grid
PreviousUnique Characteristic of Rainwater Harvesting Module
NextLeiyuan Overall Upgrade the Rainwater Harvesting Module Production Process