Interlocking Soil Stabilizers Grid Floors Horse Riding Grid
LY950

333*333*50mm

HDPE

Black Dark Green

More than 250tons/m2 after filled

-40 to 120 degree Celsius

Paddocks, Horse walkers, Lunging arena, Equestrian sports area etc.

0.65kg/pc; 5.85kg/m2

Bundles for FCL and cartons for LCL

570sqm/20'GP; 1150sqm/40'GP; 1310sqm/40'HC



Product Details
Horse Riding Grid Recruit Global Distributors NOW!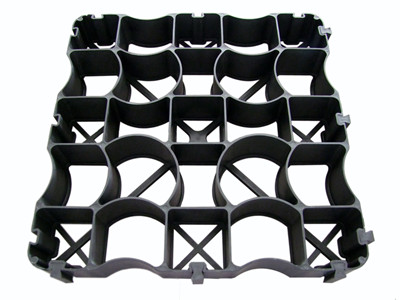 Horse Paddock Grid
is a high quality and versatile range of 100% recycled high density plastic, permeable paving. Ground stabilization horsting footing grid from Leiyuan Industrial Company Limited is the best quality product of its kind in the market place. It has high own load-bearing capacity and the intelligent load distribution, except that, it has feature of excellent durability,drainage, traction and carrying capacity. It is incredibly tough and durable, and it needs minimal maintenance. It is best mud management solutions for all equestrian facilities and livestock owners. Grid floor has a compressive strength of up to 250 tonnes per m2.
Horse paddock grids systems prevent the intermingling of the surface with the subsoil. Roughly 2/3 the price of other commercial equestrian footing products. Retire for life from your paddock improvement career. Fix it once with paddock grids, and forget it. paddock grids provides usable outdoor or indoor footing 365 days a year come rain or shine.
Interlocking Soil Stabilizers Grid Floors Horse Riding Grid
Using paddock grids instead of the "twelve inches of gravel" method permanently solves your muddy paddock problems. walkways prevent you from providing turnouts for your - or your clients' - horses? Constant rainfall, clay soil, heavy traffic - it doesn't matter! paddock grids provides usable paddocks year-round. Other ground treatments, such as hogfuel, require annual removal and reapplication. Horse paddock grids is now suggested by the Conservation Office.

Leiyuan is offering plastic ground reinforcement horse footing grid system for customers from all over the world. We produce quality gravel and grass grids, they are suitable for driveways, paddock etc.

Contact us today for professional consultation and installation Guide!!
WHY WE ARE SPECIAL AND BETTER?
After studied the European Standard design, we made a revision on interlocking part, which is able to interlock tightly and ensure the interlocking parts no broken during horses running.
9 individual sections are pre-assembled in the factory to form easy-to-install units. This means that you can lay an area of 1 m² in one go.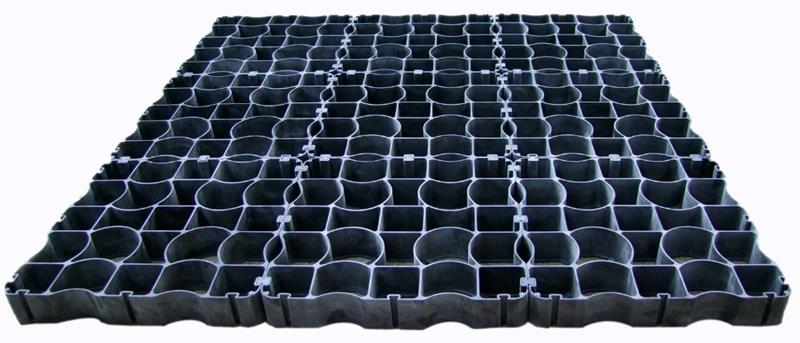 LY950 TECHNICAL DATA
| | |
| --- | --- |
| MATERIAL | HDPE(100% Recycled High Density Polyethylene) |
| COLOR | Black; Dark Green |
| SIZE | 336*336*50mm |
| CELL WALL THICKESS | 2mm |
| WEIGHT | 0.65kg/pc; 5.85kg/m2 |
| OPEN CELL PERCENTAGE | 92% top; 75% base |
| ANTI HCL | According to GB4218-1984, 30% x 24h, no visible change |
| ANTI NAOH | According to GB4218-1984, 30% x 24h, no visible change |
| THERMAL AGING | According to GB/T 7141-1999, 70IC x24h, no visible change |
| UV RESISTANCE | According to GB/T18830, UPE>30T(UVA)AV<5%, Qualified |
| TOXICITY | Non Toxic |
| DURABILITY | At least 10 years in neutral ground of 4<pH<9 |
| PACKING | Nine individual sections are pre-assembled in the factory to form easy-to-install units. This means that you can lay an area of 1m2 in one go. |
| PACKING | 570sqm/20'GP; 1150sqm/40'GP; 1310sqm/40'HC |
COLORS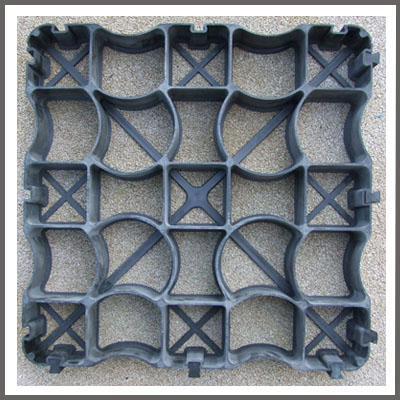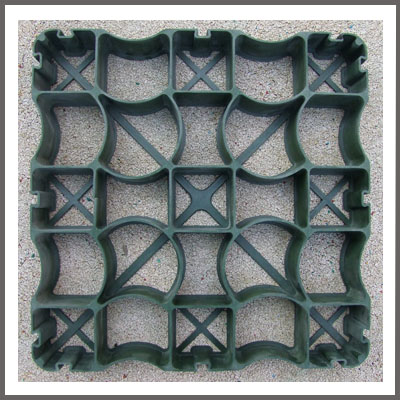 APPLICATION
Indoor and outdoor riding arenas
Paddocks and open

stables
Tethering and mounting

areas
FEATURE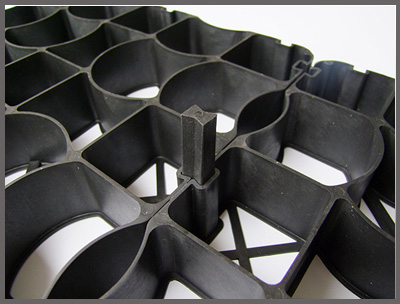 -Light weight
-Non-slip
-Elastic and robust
-Easy Install
-Crack-proof
-Weatherproof
-Environmentally friendly, 100% recyclable
-High load capacity
-Ammonia resistant
-Withstands frost and UV light
-Does not rot
-Best muddy management solution
ADVANTAGES
No mud
Equal load on all joints
The tread layer remains separate from the substructure
Minimal maintenance
High degree of elasticity
Load capacity of up to 250tons/m2
Outstanding drainage
More than 200 elastic elements per m2
Quick and easy to install
Environmentally friendly
Minimal hoof impact marks
Patented safety locking system
Permanent drainage
Robust surface with good grip
All-weather areas, the ideal surface all year round
Open stables keep free from mud and puddles.
ACCESSORIES

We supply a firm interlocking connected accessories and fix edging system that offers a guide to ensure continuous levels across surfaces as well as the ability to cut patterns and curves to surfaces.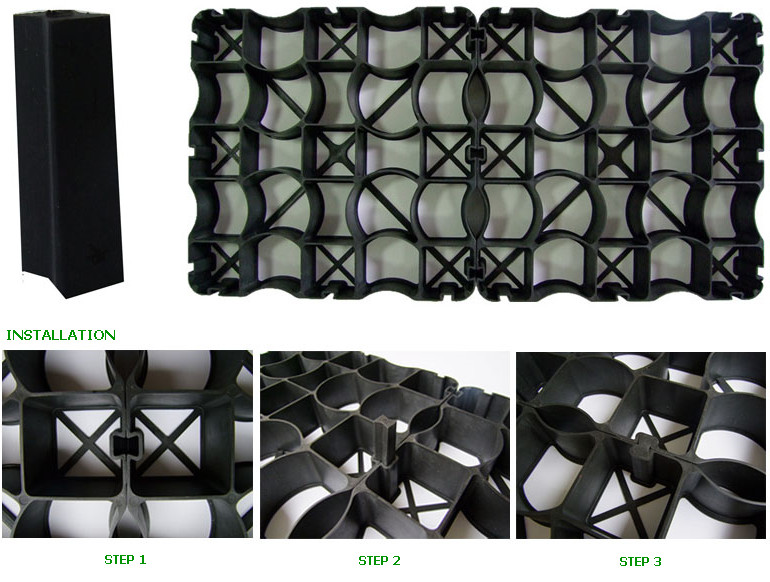 PACKING & LOADING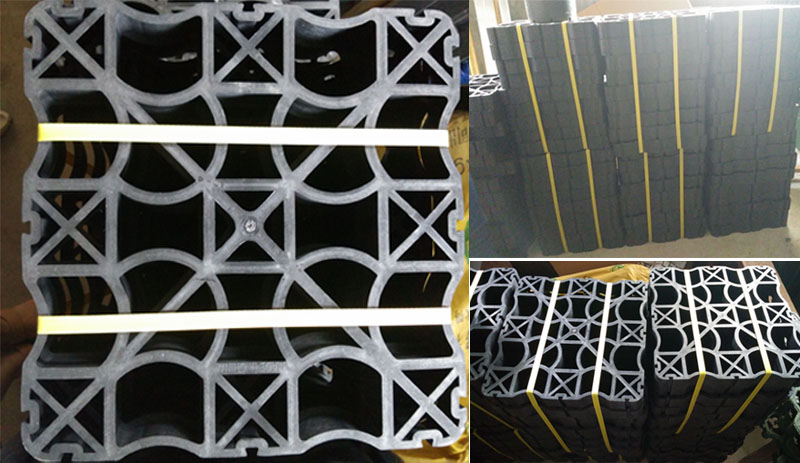 PreviousMud Flooring Reinforcement Horse Footing Paddock Grid
NextFactory Supply HDPE Gravel Paving Paddock Drainage
Related Products