High Quality PP in Floor Heating Systems
WT4501

450x450x25mm

PP

Black

2000Kg/sqm

100 degree

Industrial, Commercial building heating/cooling systems, Agriculture, Animal husbandry, Forestry heating, Airports, schools, hospitals, Fishery

2.5Kg/sqm

Carton packing

360 carton/40GP

39259000



Product Details
High Quality PP in Floor Heating Systems
Brief introduction
Underfloor Heating System also called radiant floor heating. With a temperature not higher than 60℃ hot water as the heating medium, circulation flow in the filling layer of the heating pipe buried below the ground, heating the whole floor and through the ground to radiation and convection heat transfer mode to the indoor heating of a heating means. The heat dissipation characteristics is from bottom to top and it has the characteristics of warm, comfortable(heat evenly without drying), health, energy, etc.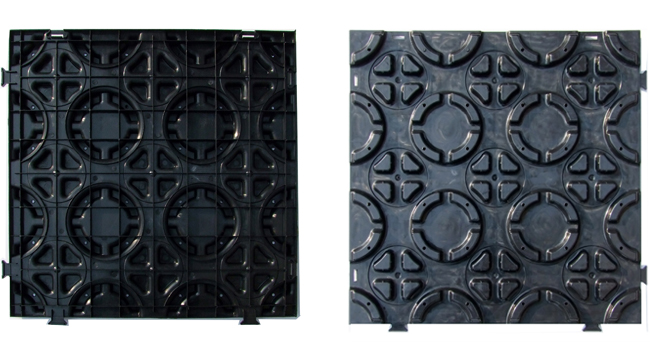 Technical data
| | |
| --- | --- |
| Item No.: | WT4501 |
| Size: | 450X450X25MM |
| Material: | PP |
| Weight: | 2.5KG/sqm |
| Coil spacing: | 15CM |
| Suitable pipe diameter: | 16CM |
| Trap module: | 400x400x25(small smount) |
| Capacity quantity: | 200sqm/day |
Advantages
1. High strength, more than 50 years working life.
2. Once construction can be completed, convenient and save a lot of labor cost.
3. Modular design, pipeline distribution uniformity, high pressure molding, high density and uniform density, fast heating, uniform heating.
4. Non-toxic, odorless, flame retardancy, non volatile harmful gas.
5. Can provide hot water and the water can be recycled, damaged parts can be replaced individually.
6. Recycle resources(user needs): circular economy, reuse.
7. The construction is simple, efficient, saving half time than traditional heating, skilled workers only need 40 minutes every 100 square meters.
8. High compressive strength, can bear the rolling of the car.
Features
1. Underfloor Heating System is made of environmentally friendly materials without pollution, at a temperatures above 100℃ will not produce any toxic gases, including formaldehyde.
2. Underfloor Heating System is easy to install and have buckle can directly fix the pipe.
3. The price is inexpensive and reliable than other similar products.
4. The uniform heating of this product is particular uniform and maintain long-lasting heat.
5. Energy saving, environmental protection, compression and preservative, available for 50 years without problems.
Application
1. Industrial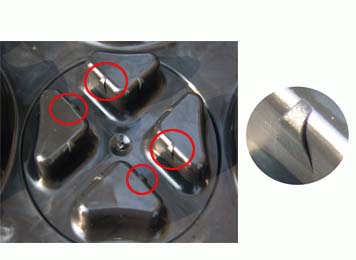 2. Commercial building heating/cooling systems
3. Agriculture
4. Animal husbandry
5. Fishery

6. Forestry heating
7. Airports
8. Schools
9. Hospitals

Installation
1. Laying EPE reflective film or other insulation board
2. Laying the heating module upon the reflective film
3. Pipe coil in the heating module
4. Backfill concrete or laying ground decoration directly.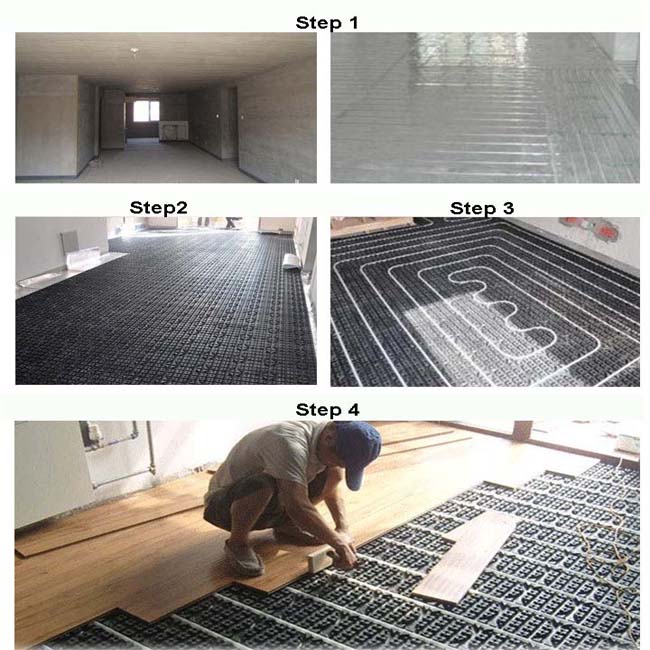 Stress testing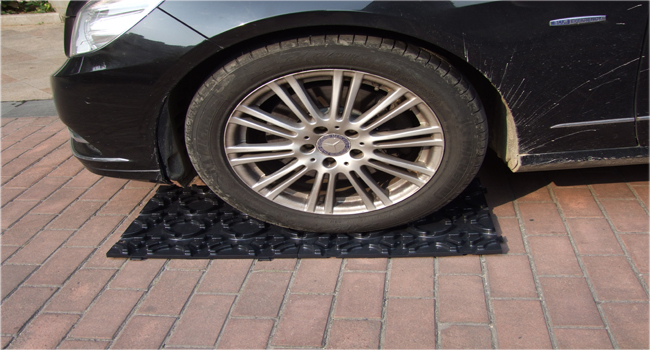 Project show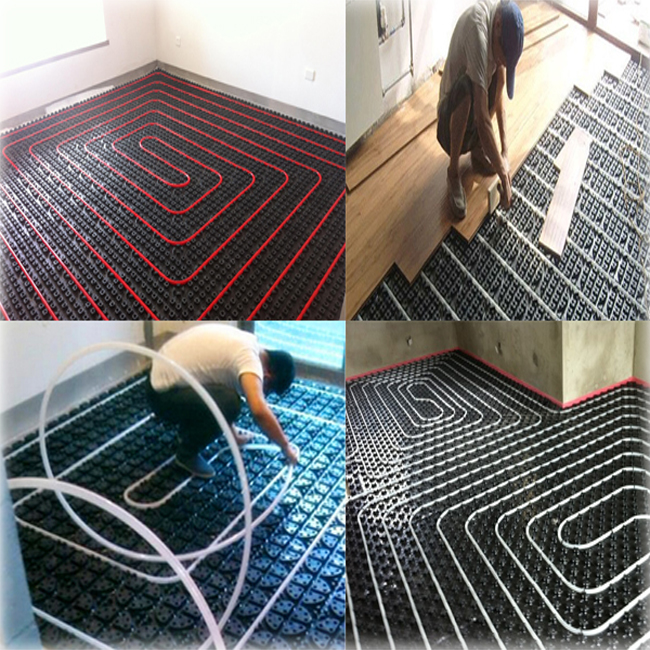 PreviousPlastic Hot Water Radiant Floor Heating Module
NextEnvironmental Grid Module for Radiant Floor Heating
Related Products