Underfloor PP Radiant Heating System
WT4501

450X450X25MM

PP

Black

2000KG/sqm

100℃

Industrial, Commercial building heating/cooling systems, Agriculture, Animal husbandry, Forestry heating, Airports, schools, hospitals, Fishery

2.5kg/sqm

Carton packing

360 carton/40GP

39259000



Product Details
Underfloor PP Radiant Heating System
BRIEF INTRODUCTION
Heating module is using high-strength molding process from repression, compactness and high heat transfer speed. It greatly reduces the thickness of the heating system and is conducive to the high efficiency of heating.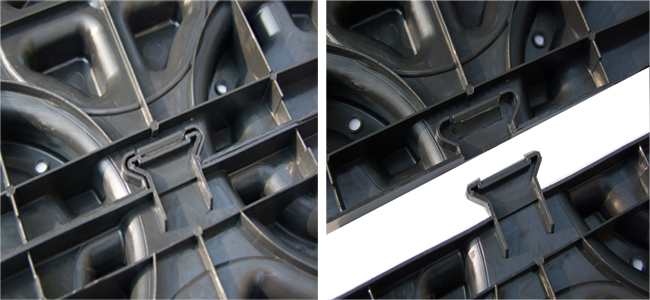 PARAMETER
Product name: Underfloor PP Radiant Heating System
Item Number: WT4501
Material: Polypropylene
Size: 450x450x25mm
Weight: 2.5kg/sqm
Coil spacing: 15cm
Suitable pipe diameter: 16cm
Trap module: 400x400x25(small amount)
Capacity quantity: 200sqm/day

ADVANTAGES
1. High strength, more than 50 years working life.
2. Once construction can be completed, convenient and save a lot of labor cost.
3. Modular design, pipeline distribution uniformity, high pressure molding, high density and uniform density, fast heating, uniform heating.
4. Non-toxic, odorless, flame retardancy, non volatile harmful gas.
5. Can provide hot water and the water can be recycled, damaged parts can be replaced individually.
6. Recycle resources(user needs): circular economy, reuse.
7. The construction is simple, efficient, saving half time than traditional heating, skilled workers only need 40 minutes every 100 square meters.
8. High compressive strength, can bear the rolling of the car.

FEATURES
1. Underfloor Heating System is made of environmentally friendly materials without pollution, at a temperatures above 100 degrees Celsius will not produce any toxic gases, including formaldehyde.
2. Underfloor Heating System is easy to install and have buckle can directly fix the pipe.
3. The price is inexpensive and reliable than other similar products.
4. The uniform heating of this product is particular uniform and maintain long-lasting heat.
5. Energy saving, environmental protection, compression and preservative, available for 50 years without problems.

INSTALLATION
1, laying EPE reflective film or other insulation board
2, laying the heating module upon the reflective film
3, pipe coil in the heating module
4, backfill concrete or laying ground decoration directly.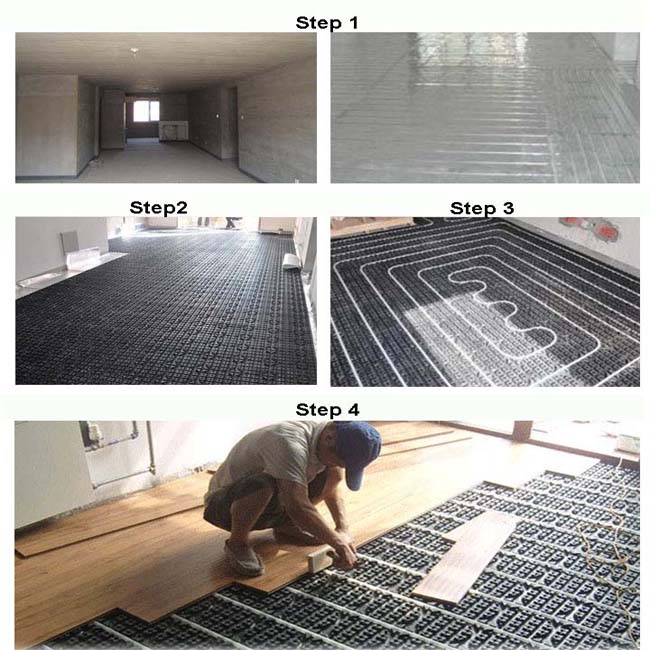 WHY CHOOSE US?
-Factories
own factories and 15 years of business experience
15-year of manufacture of plastic products gives us precious experience of product development and manufacture. Our product has been adopted by many great engineering companies and construction units, and it earned a good reputation.
-Materials
high quality materials and restrict inspection process
Material decides the quality of products. Our material supplier is the well-known PP-R Material Production Company, which has the international manufacture standard. All the bought raw materials have to go through a series of restrict scientific inspection to ensure all their properties are good. High quality materials lead to quality-guaranteed products and ensure the safety and health of users.
-Manufacture
German equipment and skilled craftsmanship
Using international advanced equipment, which is highly automatic and controls the quality and quantity accurately.
Highly accurate and automatic injection molding machine ensures the manufacture proceeds efficiently and accurately, as the automatic process reduces the human error effects on the quality of the products.
-Quality
High standard inspection into every detail
A perfect quality control system is constructed, checking the quality through both self-detection and mutual detection processes. Before leaving the factory, every batch of products will be checked by professional inspectors in terms of appearance, size, properties and package, making sure all the products are reliable and the system operates safely.
Perfect quality-inspection system, advanced inspection methods and restrict detection regime contribute to the outstanding quality of our products.

PROJECT SHOW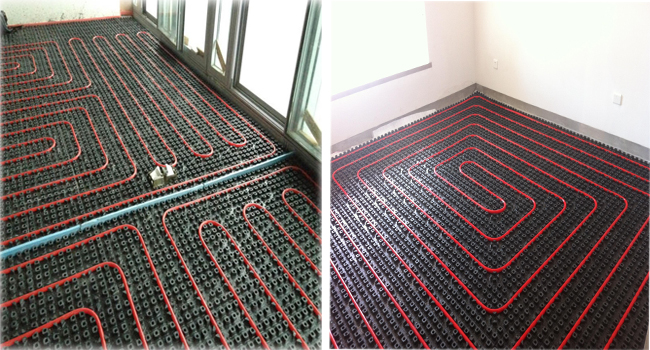 CERTIFICATION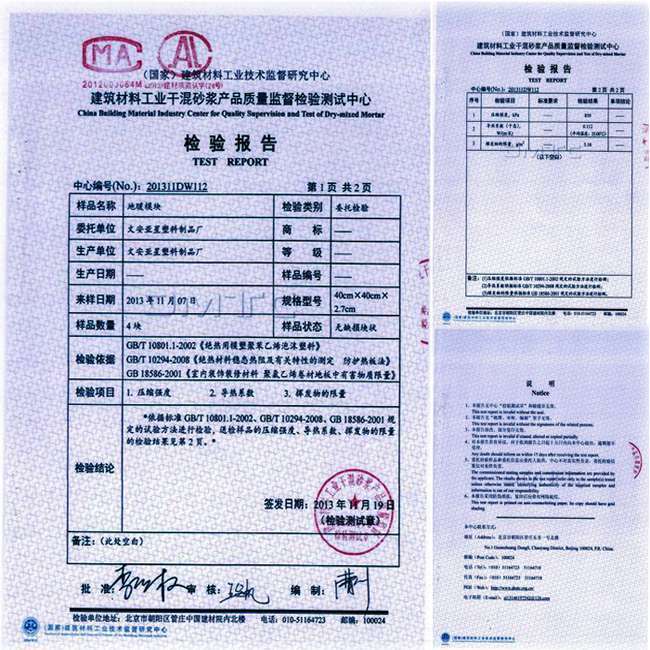 PreviousLong Working Life Radiant Water Heating Systems For Homes
NextPlastic Hot Water Radiant Floor Heating Module
Related Products